Play Where The Champions Play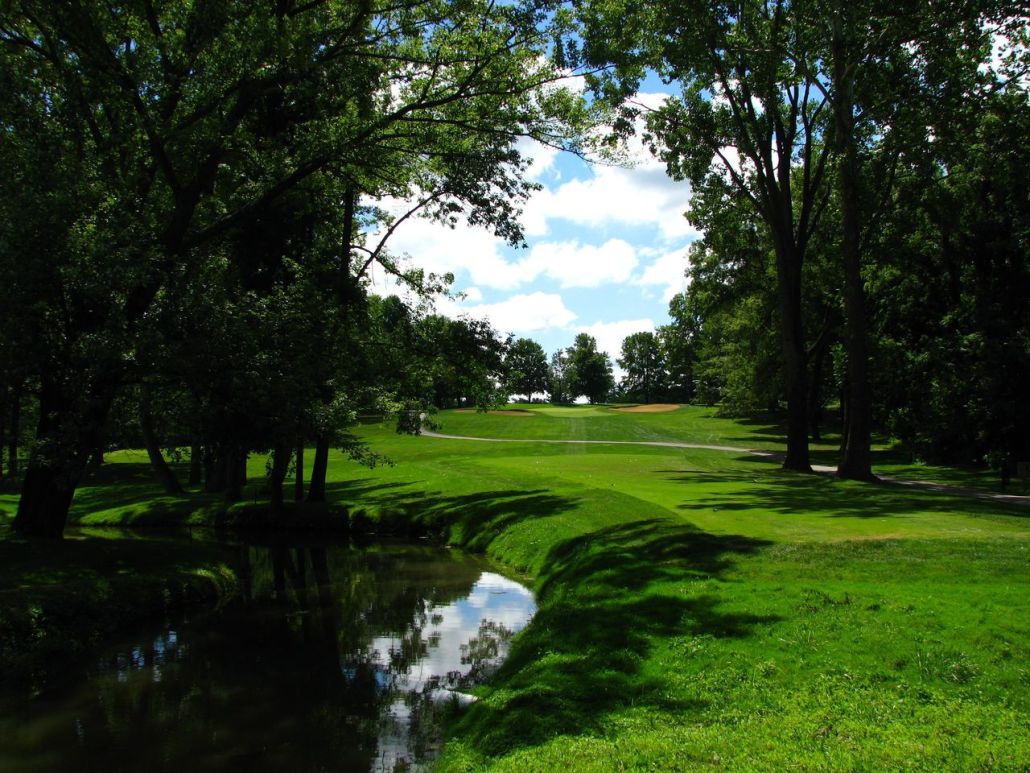 A Championship Course Everyone Can play
Located in the countryside of Columbus, Indiana, Otter Creek Golf Course has been ranked among the top public golf courses in the U.S since its inception in 1964. Renowned golf course architect Robert Trent Jones, Sr. designed the original 18 holes, now the North and West courses. Jones' son Rees Jones designed an additional 9 holes, the East course, in 1995. This 27 hole championship course is designed in harmony with Southern Indiana's gently rolling hills, the existing contours of the land ensure each shot a natural challenge. Jones' original design has distinguished Otter Creek Golf Course as a championship golf course unique to all others.
A public golf course always in tournament condition, Otter Creek continually intrigues even the most accomplished players. Some of the best golfers in the U.S. play these 27 holes. Winding through 300 acres of hilly terrain and more than 3000 trees, the Clifty and Otter creeks meander throughout the course as natural water hazards. Classic style trees and rich, bent grass fairways lead to the large, challenging greens, also of bent grass for which Robert Trent Jones is noted. All bunkers are filled with white sand imported from North Carolina.
Here's a fun piece of trivia: Robert Trent Jones called the 13th hole the best he had ever designed and dubbed it "Alcatraz." It is short – 185 yards, par 3 – with the green on an island framed by towering Indiana Sycamores.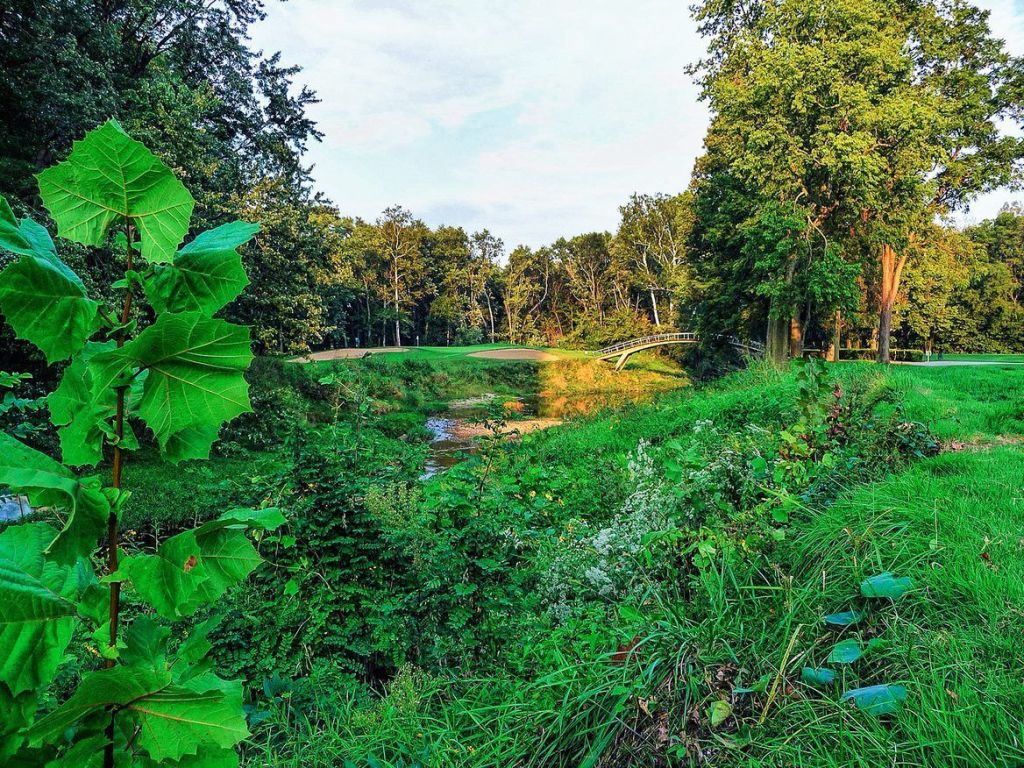 As a championship public golf course, Otter Creek makes the conveniences of the most exclusive, private clubs available to all. Eight miles of paved cart paths, a range for 50 golfers, a 15,000 square foot putting green and a practice chipping green contribute to Otter Creek's reputation as one of the most exceptional public golf course facilities in the U.S.
Home to 26 Indiana Men's State Amateur Championship
Otter Creek provides four tee settings so golfers of all playing levels can enjoy the course. The most demanding, the gold tees, measure 7200 yards, and are used in many of the championship tournaments.
Major championship tournaments include: The 1991 66th Annual U.S. Amateur Public Links Championship, The American Junior Golf Association Championship, The Independent Youth Golf Classic, and The Indiana Men's State Amateur Championship – 26 times.
Otter Creek has been the qualification site for: The U.S Open, The U.S Senior Open and The National Public Links.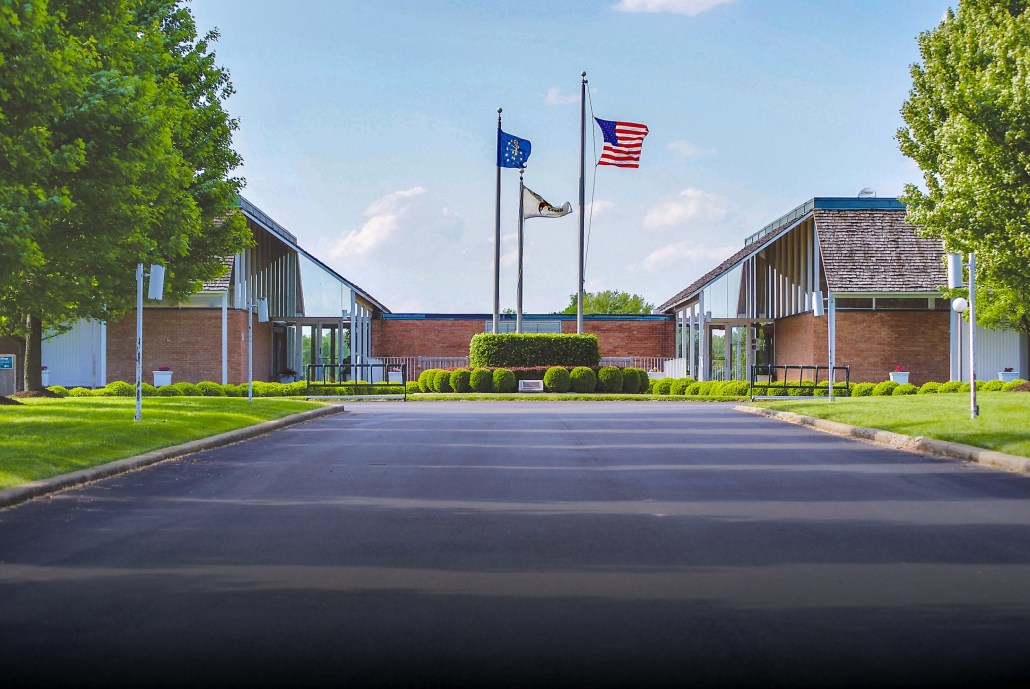 A Championship Clubhouse For All to Enjoy
As one approaches Otter Creek Clubhouse and Golf Course the first impression is of the compatibility of the building and its setting. The rural sense of this modern building is achieved through an extensive use of wood. The precision of the building's geometric patterns compliment the orderliness of this 27-hole golf course.
The Clubhouse was designed by modernist architect Harry Weese, one of Chicago's preeminent architects at the time. The building includes spacious lounge and dining areas that overlook the golf course. The floor-to-ceiling perimeter windows are protected by thin shed roofs that create surrounding porches. A double row of little-leaf linden trees line the entry drive.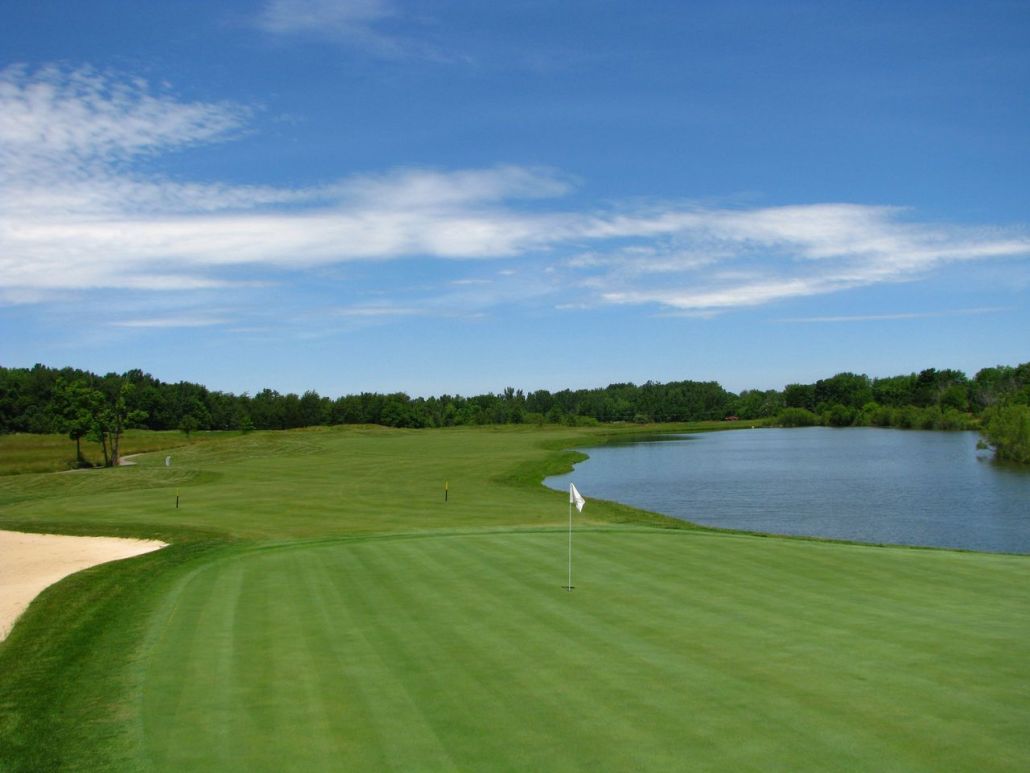 Statistics… Par for a Championship Course
300 Acres of Golf Course
Six Acres of Bent Grass Tees
Six Acres of Bent Grass Greens
45 Acres of Bent Grass Fairways
127 Bunkers Filled with Imported North Carolina White Sand
Seven Acres of Practice Range
Eight Miles of Paved Cart Paths
Ten Acres of Water
Five Acres of Clubhouse Lawn
Ideally suited to make your group or company outing a success, Otter Creek welcomes golfers in any number from one to 200. Golf packages for three to five days, with excellent accommodations are available. Due to the popularity of this championship course, tee times should be reserved in advance for weekends, as well as weekdays.
Scorecard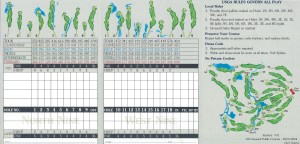 Otter Creek is the kind of course Jack Nicklaus must have had in mind when he stated in Sports Illustrated that apart from playing the game, a well-designed golf course can be "simply a marvelous place to be, a constant source of pleasure and contentment."
That's what you'll find when you play Otter Creek. Easily accessible from many major cities, you too can enjoy this championship course.